Who we are
Heartlines is a South African-based NGO that aims to be part of addressing some of the issues facing society by helping move people from professed positive values to lived values.
Much of what is wrong in society is the result of the values we profess and the values we live, be it family breakdown, corruption, fraud, poor productivity or environmental degradation. We exist to try and be part of the solution to change that.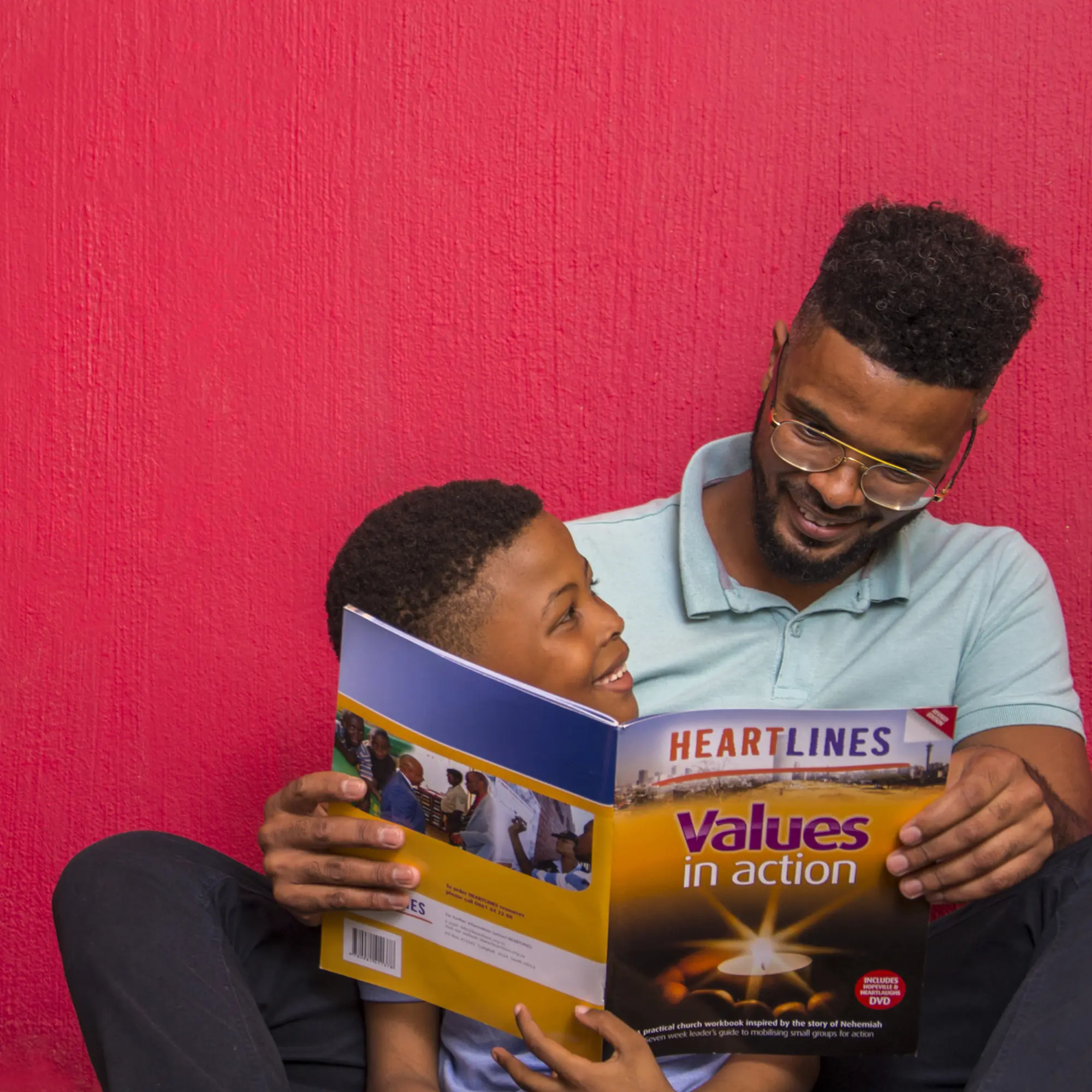 All our projects are theory based – Our interventions are based on best practice social change theory. We use the Social Ecological Model, the "diffusion of innovation" approach, and the "stages of change" theory to inform our work.
We choose our topics carefully – We take on big national issues that we believe can be impacted through a values-based approach and which work within our research-based methodology.

Our films are designed to reach large audiences – Because stories are captivating, entertaining and thought-provoking, the multimedia content we produce appeals to large audiences.

Our resources are designed to reach leaders – We place special emphasis on reaching people and leaders in different environments where values-based work will have an impact. These include churches, other faith-based organisations, schools, workplaces and correctional facilities.
We're serious about seeing an impact – We continually do monitoring and evaluation on our projects to understand their real-world impact.

Who we work with
Our work aims to reach individuals and leaders who can use values-based resources in their different spheres of influence, including:
Churches – The largest community based organisations in South Africa, with over 80% of the population claiming membership, it has a mandate to promote values.
Other faiths
Schools
Workplaces
Care workers in correctional facilities
Depending on each project we will target particular groups withing these environments for instance youth or men.
We also build partnerships with institutions and people who want to use our project resources to support their own values-based work. These include faith-based organisations, NGOs, universities and government departments.
Our goal
Our vision is to see a more equitable, caring, cohesive, healthy and just society.
Our mission is to help people live their better selves for the common good.
Our team's values are:
We care for each other
We go the extra mile
We choose integrity
We never give up
We have fun and are creative.
Our story
In 2006, Heartlines came to the fore in emphatic, award-winning fashion. We produced eight values-based films that launched our first national campaign, "8 Weeks. 8 Values. 1 National Conversation."
Each film focused on a specific value, and accompanying resources encouraged people to take the conversation on that value further in a small-group setting, such as a classroom or faith-based group. These films went on to win numerous awards, including from the Durban International Film Festival and the Banff World Television Awards.
This was to become a hallmark of the Heartlines brand – using relatable, true-to-life drama played out on film as a conduit to kick-start and engage in values-based conversations.

What people are saying about us…
"I experienced change
Heartlines is a vehicle of true and godly reconciliation. I saw and experienced God bringing about reconciliation in two days in a supernatural way, removing mindsets and attitudes and bring His body to a place of love, understanding and one heart."
- Herman Bouwer
"You're making us better people
What Heartlines is doing to help better us as people is beyond great!"
- She-Vaughn Fortuin
"A beautiful story
Beyond the River is a great movie with a beautiful story about caring for one another, it made me introspect on how I interact with others."
- Hendrica Sediba
"Storytelling is essential
Building bridges through storytelling is an essential part of working toward true reconciliation, Heartlines is helping us in the process of healing our memories."
- Rev. James Adams
"Huge impact
We are so grateful for the 8 films, they've made a huge impact here among the teens in our township."
- Lwandiso, KZN
"Brilliant film
Everyone was touched by the film and thought Beyond the River was brilliant; acting, photography and, of course, the story."
- John Browne
"Insightful
Very insightful workshop and it pushes us more when someone tells us their achievements. Sometimes we need to be reminded it's possible to gain financial freedom. Thank you, Heartlines."
- Charmaine Nyambe‎